Almost 3 weeks ago, Blackmoon and Daneel.io announced their partnership to the world and in the 19 days that have passed since then, we worked tirelessly as a team to produce an innovative investment product. Today, we are very proud to announce that the Sentiment Top 10 ETx by Daneel.io is live!
Blackmoon has turned Daneel.io's already successful sentiment API into a feed for an investable ETx, therefore, allowing investors to capitalize on the top 10 coins with the highest confidence score for the week. This score reflects the market opinion based on the data mined from the text within millions of news articles, tweets, social media posts, bitcoin talks etc every day.
"This new type of financial product offered by Blackmoon opens up endless possibilities for investors and incredible ease of execution. Our Daneel ETx is a great example, it will allow investors to bet on market optimism." said Harold Kinet, Head of Communication at Daneel.io.
Using AI & Big Data Technologies
The crypto market is mostly driven by the investor's expectations based on the available information online. Using AI and Big Data technologies, Daneel.io designed a proprietary scoring method which reflects the market sentiment about any cryptocurrency. The snapshot of the market sentiment provided through the API and user interfaces enables investors to react intelligently and quickly to new trends and market movements.
The Strategy
In the blockchain industry, lots of information about recent trends and new coins appear each day. It should be also taken into consideration that part of the information is promotional or even distorted. In this difficult environment, investors and, especially, crypto beginners inevitably encounter difficulties with cross-referencing sources and analyzing content to select reliable information and to weed out fake news.
Daneel.io provides users with a daily snapshot of the market sentiment of the blockchain industry which enables investors to react intelligently and quickly to new trends and market movements. Utilizing sophisticated Big Data technologies, Daneel.io collects more than 2 mln data points each day from blogs, announcements and social networks. Enhanced by IBM's Watson artificial intelligence, Daneel.io compiles all the collected information and assigns it a score based on the validity of the source and the velocity of the news. All that is possible thanks to the text mining.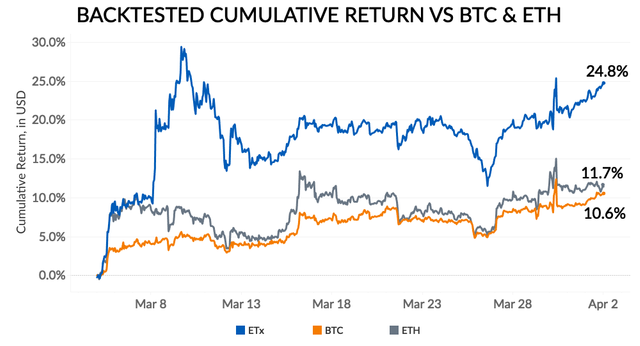 Backtested results for the recent month. Past performance is not an indication of future results.
The Sentiment Top 10 ETx is based on the proprietary sentiment analysis designed by Daneel.io using the AI and Big Data technologies. This ETx provides a unique opportunity to get exposure to the 10 cryptocurrencies with the largest sentiment score. Cryptocurrencies listed in the final tradable list are weighted against one another based on their sentiment score. The portfolio is automatically rebalanced every week.
The strategic partnership with Daneel is one of many that Blackmoon has and intends to form. Our ultimate goal will be to have an entire suite of innovative ETx's to offer our own clients as well as those of our partners.
More information, including the full list of innovative investment, is available on the Blackmoon platform.
More innovative investment opportunities to come!
This ETx is the first release from the new series of investment opportunities for our users. In the nearest future, our product collection will expand significantly, so stay tuned!
---
Handy links to stay tuned to our updates:
website: https://blackmoonplatform.com
telegram channel: https://t.me/blackmooncryptochannel
info video: https://youtu.be/6Ii0XckQOAE
---
DISCLAIMER
Investment in cryptocurrencies carries a high degree of risk and volatility and is not suitable for every investor; therefore, you should not risk the capital you cannot afford to lose. Please consult an independent professional financial or legal advisor to ensure the product meets your objectives before you decide to invest. Regional restrictions and suitability checks apply.