Lyft Inc., valued at $15.1 billion on the private markets in its last funding round, is aiming for an Initial Public Offering (IPO) valuation of $20 billion to $25 billion in late March-early April, according to Bloomberg. Blackmoon offers a unique opportunity for investors to get exposure to the performance of Lyft Inc. shares starting right from the IPO date.
This article will shed light on the upcoming offering, and what to do, if you want to participate.
Why our offering is unique?
First, let's imagine how would average retail investors act to participate in this IPO and the difficulties they will face.
Receiving access to IPO. Most of the wealth managers and brokers do not provide access to a primary market, simply because they do not have proper infrastructure, necessary to facilitate such operations, which is usually associated with institutional business, run by bigger market players. Thus most of the smaller retail orientated brokers tend to focus on secondary market services, which is much more cost effective.
Receiving allocation, once the order is placed. Typically IPO allocation is broken into two tranches: Retail and Institutional, with a proportion of around 10% to 90%. Retail investors are always left in the shadow because syndicate banks who are running IPOs tend to reward their biggest institutional customers by providing sizeable allocations in the primary market. Thus it's very hard for the retail investors to receive an allocation when a manager of a Hedge fund is placing tens of millions of dollars.
Both of these problems are eliminated on the Blackmoon Platform since (i) the offering is available for all of our users (regional restrictions apply); (ii) currently, we serve mostly retail clients, thus no pressure from institutional investors here.
Moreover, unlike your local broker, we do not require your physical presence to pass verification, the process is fast, straightforward and excludes depressing red tape.
No lock-up Period
Finally, what makes our offering truly unique — we removed the lock-up period for our users, and you can start trading soon after the IPO!
More about Lyft Inc.
Transportation is a massive market. In 2017 in the US, transportation was the second largest household expenditure after housing and was almost twice as large as healthcare and three times as large as entertainment.
In 2012, Lyft launched its peer-to-peer marketplace for on-demand ridesharing and have continued to pioneer innovations aligned with revolutionizing of transportation. In December 2018, Lyft's U.S. ridesharing market share was already 39%, up from 22% in just two years. This growth comes from both new drivers and riders as well as increased ride frequency. For the quarter ended December 31, 2018, the company had 18.6 million active riders and over 1.1 million drivers who provided rides. The company currently operates in over 300 markets across the United States and Canada, each with its own unique user network.
The company shows impressive growth in revenue in recent years, with a 209% increase in 2017 and 103% in 2018.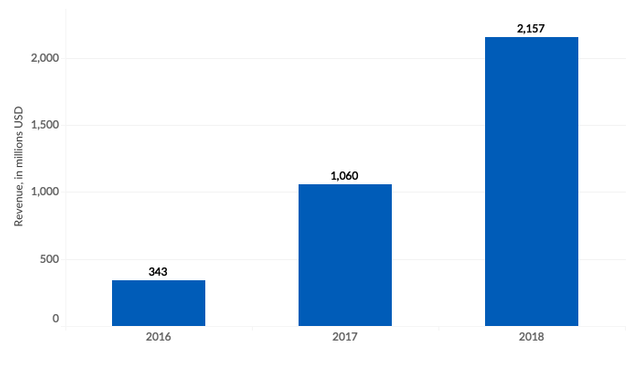 ![1_ogKisa_t5yJS4YAr1tedMw.png]
()
Lyft's multimodal platform is currently developing in 4 segments.
Ridesharing Marketplace
The company's core offering since 2012 connects drivers with riders who need to get somewhere.
Bikes and Scooters
A network of shared bikes and scooters to address the needs of riders who are looking for lower-priced, more active and often more efficient options for short trips during heavy traffic.
Public Transit
The company's Nearby Transit offering integrates third-party public transit data into the Lyft app to offer riders a robust view of transportation options.
Autonomous Vehicles
The company has a number of strategic partnerships to offer access to autonomous vehicles.
The company shows remarkable growth in its key metrics — the number of rides and active riders.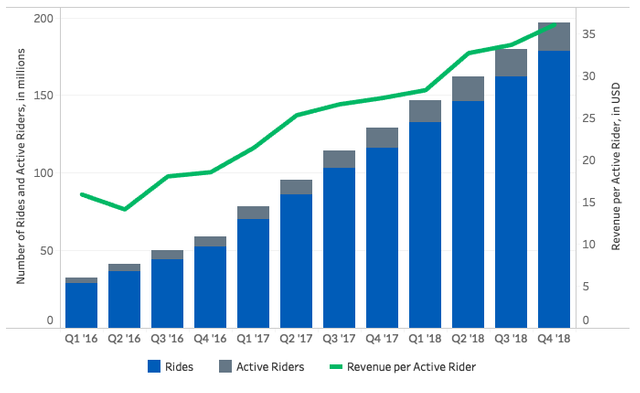 Lyft defines Active Riders as all riders who take at least one ride on Lyft's multimodal platform through the Lyft app during a quarter. An Active Rider is identified by a unique phone number.
Despite the company hasn't started converting revenues into profits yet, it has a huge market share in the ridesharing industry of the US and further growth potential in all segments of transportation services. For a better understanding of the company, you can study Lyft's IPO prospectus.
How to participate?
During the book building period, Blackmoon is accepting primary market orders for the IPO. To participate, the Platform user has to follow this simple procedure:
Purchase BookLyft product for the nominal value, which he intends to place for the IPO.
Before the first trading day, the IPO results will be released and, in case of successful allocation, BookLyft product will be converted to BMxLYFT at a certain exchange rate.
BMxLYFT will be priced at the gross IPO price and will provide investors with exposure to the performance of Lyft Inc. shares.
In case of oversubscription, the allocation will be conducted on a pro rata basis. All unallocated funds will be returned to the investor's dashboard in the currency of the initial purchase.
Despite the 91-day lock-up for common Lyft IPO participants outside the Blackmoon Platform, BMxLYFT will be easily tradable for our users soon after the IPO!
For more information and to apply for the allocation, please, visit the Blackmoon Platform.
---
Handy links to stay tuned to our updates:
website: http://blackmoonplatform.com
telegram channel: https://t.me/blackmooncryptochannel
info video: https://youtu.be/6Ii0XckQOAE
---
DISCLAIMER
Investment in financial instruments carries a significant risk of loss and may not BE suitable for every investor. Before purchasing our investment products, please consider your level of experience, investment objectives and risk appetite, and consult an independent financial or legal advisor to ensure the product meets your objectives. Please note that your investments do not have capital protection and carry a risk of loss, including the loss of the entire investment amount; therefore, you should not risk the capital you cannot afford to lose. This material is presented for information purposes only and does not constitute a solicitation or investment advice.