Timing and management of your investments are vital ingredients to successful trading. Especially in extremely volatile markets. When there is an opportunity to enter or exit a trade, you must react fast as the difference between success or failure could boil down to a few seconds.
This is why Blackmoon have provided you with the tools to make an investing process even easier and more accessible to everybody by reducing the process to 3 simple steps: Login, Deposit, and Trade.
For your convenience, Blackmoon have designed a new dashboard where you can view and manage your funds on Blackmoonplatform.com.
Through this newly introduced Dashboard now you can:
1. Deposit funds you want to invest
As of now, you can deposit BTC and ETH. Additionally, if you have already purchased tokens on Blackmoon Platform, you can transfer them from your personal wallet to your account in Blackmoon in the same way as the ordinary deposit flow :
Login to your account;
Click on the "Dashboard" button;
Click on the "Deposit" button;
Follow simple instructions.
You can check your previously purchased tokens and related addresses in the "Settings section/ETH addresses". These assets are kept on your side, and you can deposit them to the platform at any time. If needed, please, add Blackmoon tokens in your wallet using contract address and decimals from the corresponding token page.
Moreover, we are really close to making available deposits in EUR, so stay tuned!
2. Easily invest and trade tokens on Blackmoon
In the Dashboard, you will see the full list of our innovative investment opportunities. Just fill an order by clicking the "Buy" button and immediately get your tokens on your balance in the Dashboard and in the transaction list.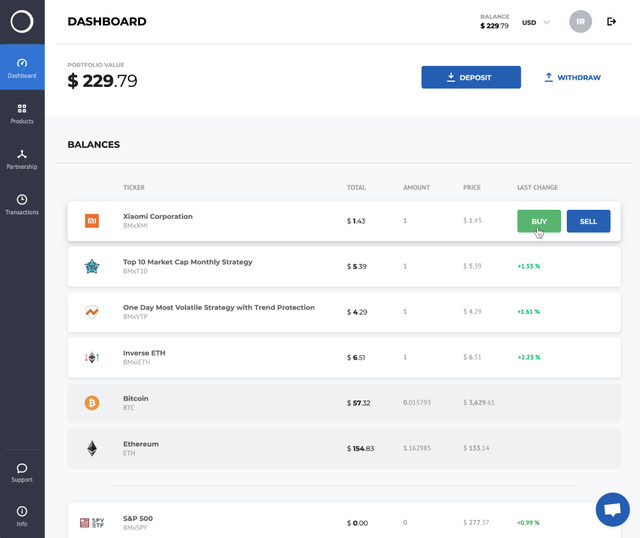 *for demonstration purposes only
3. Track the balances value in real-time
The balances of your investments and deposited amounts are instantly re-evaluated at current prices, so you can monitor the value of your investments in real-time and take investment decisions as soon as possible.
4. Manage a portfolio of purchased tokens in one place
In your Dashboard, you will find your deposited amounts and investments, and what is more important — the total value of your portfolio. You can also select the display currency (BTC, ETH, USD or EUR) in which you want to track the value of the assets.
5. React fast in case of change of market conditions
Orders for buying or selling are executed instantly, what might be crucial in the context of highly volatile crypto markets. Most importantly, for fiat markets, trades are available 24/7. No more working hours and public holidays restrictions!
Do not miss lots of opportunities waiting for you on Blackmoonplatform.com!
---
Handy links to stay tuned to updates:
---
DISCLAIMER
Investment in cryptocurrencies carries high degree of risk and volatility and is not suitable for every investor; therefore, you should not risk the capital you cannot afford to lose. Please consult an independent professional financial or legal advisor to ensure the product meets your objectives before you decide to invest. Regional restrictions and suitability checks apply.