Following the recent releases of our first Thematic Portfolio — Water and Lyft Inc. IPO, Blackmoon glad to roll out the second Thematic Portfolio — eGaming.
E-what?
The industries of video gaming and electronic sports are developing at an extraordinary rate. Gaming competitions are becoming much more professional gathering huge prize pools, attracting millions of viewers and massive sponsorship contracts. In many countries, at a domestic level, eSports have been classified as a sport.
Moreover, special video games streaming platforms are becoming a new source of entertainment for the younger generation completely replacing TV and even becoming a huge threat to the modern-day sources of entertainment, like Youtube. Notably, Youtube now has a special section dedicated to video games streaming. Just a few days ago, Google announced that they are expanding into the industry by launching the Stadia cloud gaming platform. This move alone should be a clear indicator (and erase all doubts) that this industry has a lucrative future.
Watching, playing and learning about new games have become a part of daily routine for millions. These factors, accompanied by game development companies and hardware manufacturers, are turning eGaming into serious multilateral business.
The Blackmoon eGaming Thematic Portfolio provides you with broad exposure to this burgeoning industry.
The video game industry could be worth as much as $138 billion by the end of the year, according to a market research firm. — CNBC
Strategy
The portfolio is composed of companies that represent different sectors involved in the development of the eGaming industry, including game development, hardware manufacturing, video games streaming, and digital game distribution.
The underlying portfolio of stocks is equally dollar weighted and automatically rebalanced every quarter.
Here is the backtested performance: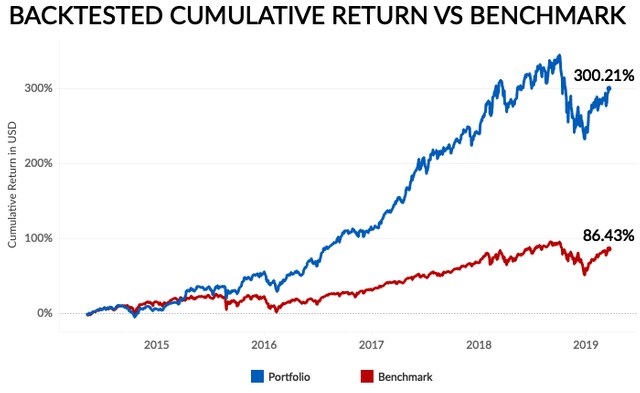 Gross of fees. As the benchmark, we used the Nasdaq Composite Index since most of the companies in the portfolio are traded there. The backtested results are given solely for explanatory purposes and do not indicate or guarantee future results.
The backtested results show that, historically, eGaming-related companies outperformed the broader equity market and tend to rebound faster after the market turmoils, renewing all-time highs.
Key companies influencing the eGaming industry are represented by different countries and continents, shares are traded on various exchanges in different jurisdictions and time zones. Due to the clunkiness of traditional investing, it might be a challenge to get exposure to this rapidly emerging industry. On the Blackmoon Platform, this problem can be solved in a matter of a few clicks.
More information, including the full list of stocks, is available on the product page.
More innovative investment opportunities to come!
Three new products were added to the Blackmoon Platform this month. We are not content with these achievements and will continue providing our users with innovative investment opportunities. In the nearest future, our product collection will expand significantly, so stay tuned!
---
Handy links to stay tuned to our updates:
website: https://blackmoonplatform.com
telegram channel: https://t.me/blackmooncryptochannel
info video: https://youtu.be/6Ii0XckQOAE
---
DISCLAIMER
Investment in financial instruments carries a significant risk of loss and may not BE suitable for every investor. Before purchasing our investment products, please consider your level of experience, investment objectives and risk appetite, and consult an independent financial or legal advisor to ensure the product meets your objectives. Please note that your investments do not have capital protection and carry a risk of loss, including the loss of the entire investment amount; therefore, you should not risk the capital you cannot afford to lose. This material is presented for information purposes only and does not constitute a solicitation or investment advice.