To complement the recent releases of the new dashboard and debit/credit card deposits, as promised, Blackmoon are glad to present a new category of products:
Thematic Portfolios
A thematic portfolio is composed of stocks bundled together by the same theme/idea. The best part of it is that instead of buying dozens of separate stocks, an investor can purchase only one product of a chosen theme. As an additional benefit, the portfolio is automatically rebalanced in accordance with a predefined method and schedule.
The first product of this kind on our platform — Water Thematic Portfolio. The portfolio invests in companies engaged in water and related industries.
Why water?
Freshwater scarcity is already an issue in several regions, and this is only the beginning. Some regions actively turn to seawater desalination where it becomes one of the major sources of freshwater.
CNBC explains "Why water is the only smart investment for the future: Forget oil and gold. Here's why water has become one of the world's most valuable investments."
Water is used everywhere and hardly ever efficiently. A major part of expenditure is agriculture, around 70%. If we could save 10% of it, it would increase the resource for other uses by almost a quarter. Even though there is no burning issue with freshwater supplies in the majority of developed countries thus far, time will teach us, and water rationing will become a necessity.
Along with the value of water, the cost of various water-related services will also increase. The Blackmoon Water Thematic Portfolio offers you broad exposure to this fundamental industry, demand for which will only grow in the foreseeable future.
Strategy
The portfolio is composed of companies that represent different sectors involved in the water industry worldwide, including water treatment, filtering, management, desalination, reservation, distribution, heating, and others. The portfolio also covers the companies engaged in water management in agriculture and engineering solutions for effective water utilization.
The underlying portfolio of stocks is equally dollar weighted and automatically rebalanced every quarter.
Here is the backtested performance: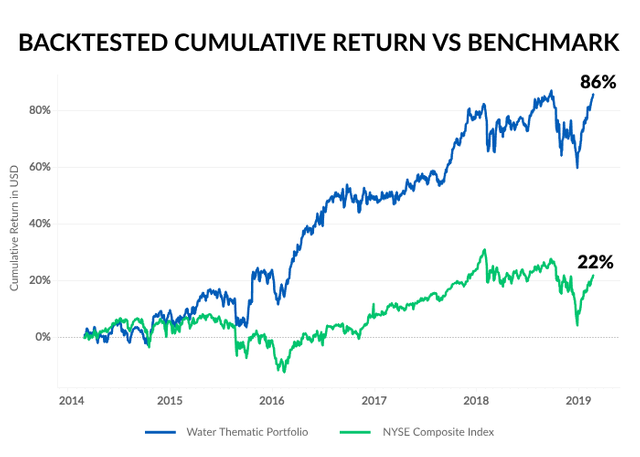 The backtested results are given solely for explanatory purposes and do not indicate or guarantee future results.
The backtested results show that, historically, water-related companies outperformed the broader equity market and tend to rebound faster after the market turmoils, renewing all-time highs.
More information, including the full list of stocks, is available on the Blackmoon platform.
More innovative investment opportunities to come!
This is the first release from the new series of investment opportunities for our users. In the nearest future, our product collection will expand significantly, so stay tuned!
---
Handy links to stay tuned to updates:
website: https://blackmoonplatform.com
telegram channel: https://t.me/blackmooncryptochannel
info video: https://youtu.be/6Ii0XckQOAE
---
DISCLAIMER
Investment in cryptocurrencies carries a high degree of risk and volatility and is not suitable for every investor; therefore, you should not risk the capital you cannot afford to lose. Please consult an independent professional financial or legal advisor to ensure the product meets your objectives before you decide to invest. Regional restrictions and suitability checks apply.